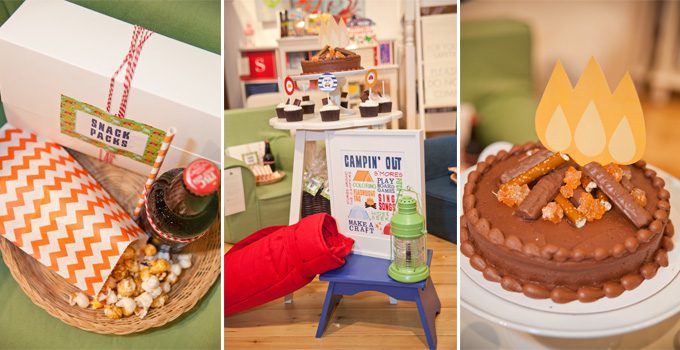 Summer heat getting the best of you?  Well here is the perfect playdate or party idea to keep the kiddos indoors and occupied.
We have partnered with our local Pottery Barn Kids in which we will host a monthly event.  Last month we hosted an indoor campout.  Here are some fun ideas along with FREE printables you can download!
These Camping Lanterns were our jumping off point for our theme.  Just so happens, our Camp Out printables matched PERFECTLY!!
We designed this FREE activity poster that you can downlaod HERE!!!
We set up a mock campsite using the PBK Anywhere Chairs that we LOVE!
What camp out isn't complete without a campfire?  Create your own indoor campfire by making a campfire cake!  Simply decorate a cake with twix bars, pretzels, rock candy, and a flame printable!  See our other verision of this cake HERE.
Dress up your cupcakes with party printable cupcake toppers found in our Etsy Shop
Inspired Occasions provided declicious cupcakes for this event, her treats are sweet perfection!
Snack packs can be made ahead of time and given to your guests to munch on as they tell stories around the campfire.
Campers were given S'mores Kits as a take home treat
We set up a coloring station for campers to participate in an activity
Tin pails with crayons and printable coloring sheets were provided so campers could color and take
home their mini-masterpieces!
It turned out to be a great event, a huge thanks to Pottery Barn Kids for inviting us!
Camping Subway Art
Camping Coloring Page by Petite Party Studio